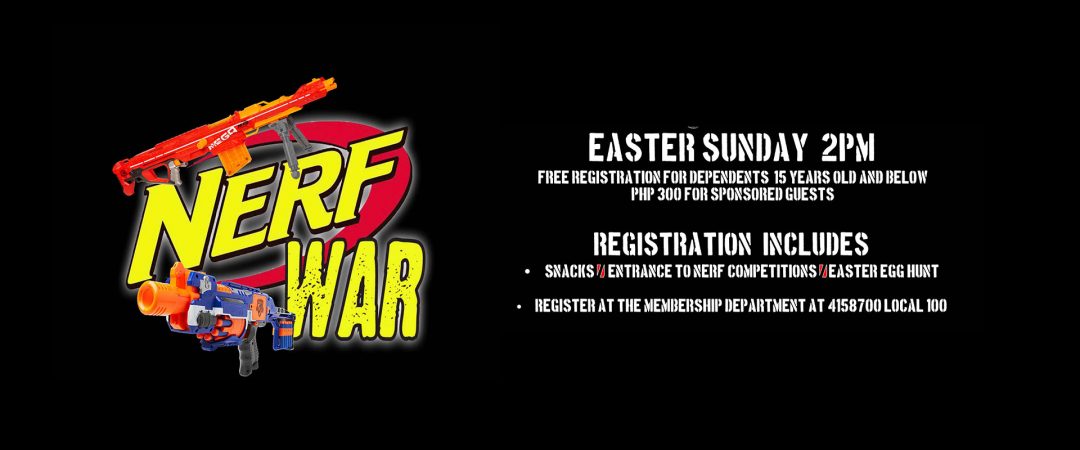 Safety Rules
No intentional face shots.
No physical contact with other players - no pushing, pulling, hitting, etc.
No wrestling weapons away from players
You must always wear the provided eye and body protection gears during battles
General Rules
No going outside the battle zones competition proper.
Tournament Format and Groupings will be done during the event.
Only nerf dart guns may be used - no water or other weapon types including melee weapons and discs.
Modified nerf guns are not allowed and Battery operated Nerf weapons are not allowed.
During time outs (called only by referees) - stop shooting (all attacks stop).
Do not shoot or throw anything over the fences, or out of bounds.
No whining, complaining, or arguing.
Do not throw or drop guns.
Help collect equipment and darts at the end of the war.
No looting of darts and weapons.
Players must leave battle zone with unloaded weapons, organizers will provide darts for the war.
Stipulations not stated in the ground rules, will be resolved by the tournament officials.
Combat Rules
Do not start the battle/leave your base until the main whistle is blown signaling the start of battle.
Listen for the end-of-battle whistle (2 blows of the whistle) and report to the assembly area.
only a referee can declare a player if he is eliminated from the game or wounded.
only hits to the torso or head count as kills.
All soldiers only have 2 lives for each game.
If a soldier is hit for the first time, he or she must stop firing and enter the penalty box and stay there for 60 seconds before he/she re-enters the game.
Soldiers in the penalty box cannot use their weapons.
No Medic and Engineering privileges are in place.
If you are eliminated out of the battle -- take your weapon, raise your hand and go outside the battle zone.
If you are out of the battle zone do not communicate with other players.
There is no friendly fire -- shooting allies on purpose or accidentally does not do damage or kill them.
Equipment Rules
Do not load or use damaged darts -- they will absolutely jam your gun. If no doubt stow it away as damaged.
You cannot throw darts -- they must be shot from a gun.
Try not to damage darts -- avoid stepping on them, avoid stuffing them roughly in your pockets.